Baby Shower Drive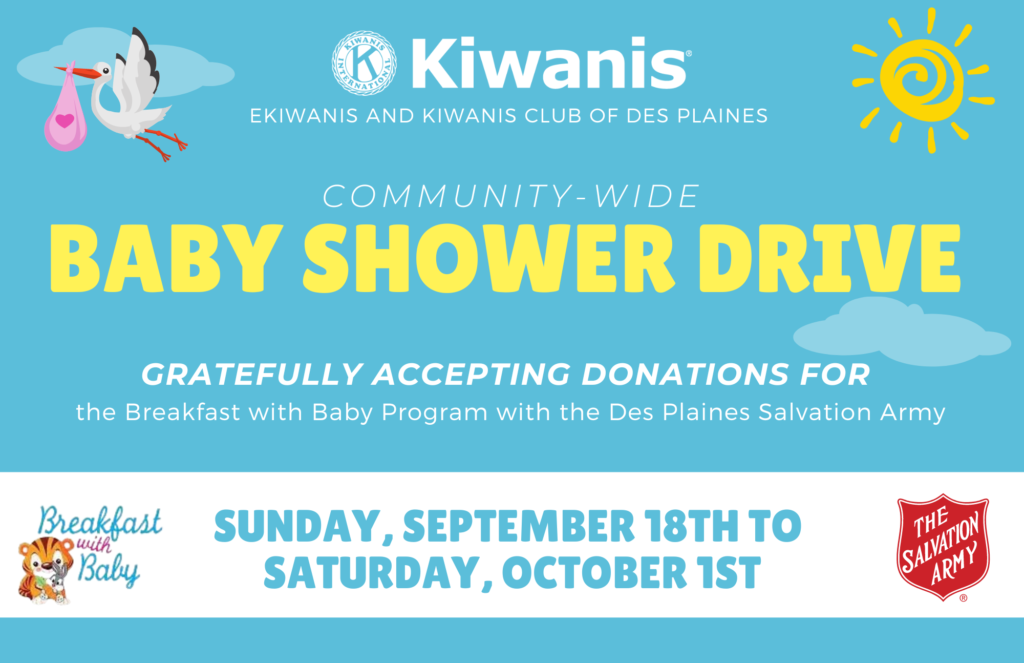 Join eKiwanis of Greater Chicago and the Kiwanis Club of Des Plaines for our Community-Wide Baby Shower Drive! The Baby Shower Drive will benefit Breakfast with Baby, a program of the Des Plaines Salvation Army. On the second Saturday of each month, the Salvation Army in Des Plaines provides spiritual and material support through the Breakfast with Baby program. Your donation will support families in financial need who have a child under one year of age or a mother who is at least seven months pregnant.
In 2020, Breakfast with Baby served a record number of families, meeting a nearly 100 percent increase in the need for basic baby supplies. The program serves 140 families with 7,000 diapers each month, pivoting to a drive-through program due to the pandemic.
To donate baby items, stop by one of the below drop-off locations during business hours between Sunday, September 18th – Thursday, September 29th:
You can also stop by our drive-thru location on Saturday, October 1st between 10am – 1pm at the
Des Plaines Salvation Army (609 W. Dempster St., Des Plaines, IL).
Big thank you to the Northbrook Two Men and a Truck for donating the donation boxes at each of our drop-off locations!
Baby Items Needed:
All items must be new with the exception of clothes.
*= Most needed items
*baby diapers
baby lotion
baby towels
baby wash
baby washcloths
bibs
*blankets
books
bottles
*gently used clothes (newborn 2T)
diaper bags
diaper cream
halo sleep sack
new toys
*onesies
pacifiers
pack-and-play
*pullups
umbrella strollers
*wipes
Want to donate items, but won't be able to drop them off?
Purchase items through our Baby Shower registries here:
Monetary Donations
Your donation can help us change lives
$15 – Baby Basics Pack: 32 pack of diapers and box of baby wipes
$25 buys a box of diapers
$50 purchases a car seat
$75 helps purchase a stroller
$100 will purchase 5 boxes of diapers
$150 will purchase 4 umbrella strollers
$250 buys diapers for a family for a year
Donate online here or write a check to The Salvation Army with the memo "Breakfast with Baby." All checks can be brought to the Des Plaines Salvation Army on Saturday, October 1st.
Baby Shower Drive Questions/Comments
"*" indicates required fields